Tagged:
Death Cab For Cutie
I need you so much closer.
Victoria has already heard a lot of Sunday Buckets. They were the October Band of The Month for the Zone 91.3 radio station, and they played on Boxing Day down at Sugar. These six guys have jumped on the scene trying to get their name out. You can find them on Myspace, Facebook, Twitter and YouTube. "In Case You Hear This" is their first album that was dropped in early July of this year.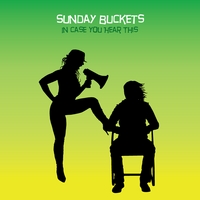 The first track, "Aftermathematics" is a catchy pop-like tune that immediately draws your mind to Death Cab for Cutie. Sunday Buckets has a unique make-up as five out of the six members contribute vocally. In the bridge section of Aftermathematics there seems to be a small spoken word/rap vocal line, which provides a good contrast to the rest of the song.
Most of the songs on "In Case You Hear This" are very mellow and easy to listen to. The third track, "Garfunkel" incorporates the classic Mr.Rogers phrase "It's a wonderful day in the neighbourhood/Won't you be my neighbour?" With unique elements like that, each song gives you something new to listen to and enjoy in its own right.
Sunday Buckets does the mellow relaxing song very well, almost too well. "In Case You Hear This" needs something heavier. "Kenny the Kid" is close with a great buildup into the first chorus, but as soon as it hits, the song falls flat and all that energy is gone. I'm left here groaning wanting that huge heavy chorus!
Overall the CD sounds great and is produced very well. Sunday Buckets has definitely found their niche in the soundscape of today and are definitely a band to keep an eye on. Pick up this CD or see them live to experience one of Victoria's newest indie hits featuring a lot of local talent.
*P.S. My roommate just showed me this, but when you plug this CD into iTunes, it incorrectly labels the title of the album, "In Case You Here This".
Marcy Playground – Leaving Wonderland…In A Fit Of Rage – EMI Music Canada
http://www.marcyplayground.com/index.php
In lieu of the upcoming Alice and Wonderland movie, I think that "Leaving Wonderland…In a Fit Of Rage," by Marcy Playground would be a suitable CD to review. The trio hails from the United States of America, have put out their first record since 2004. They pulled in quite a few favours and brought in Daniel Powter, best known for his hit "Bad Day", to play piano on their CD.
The first song, "Blackbird" has a sneaky bit of personality in the lyrics. The chorus states "Thank you rain/Thank you rain/Wash away all my pain" which seems like a seemingly simple line. But reading the first part of the liner notes, and noticing that the lead singer, John Wozniak, thanks his wonderful wife, Raine Munro-Wozniak. It becomes clear what the song is really about, a love song to his wife. Aww, how cute, and very clever! But the music itself is brings parts of Death Cab for Cutie, Joel Plaskett and Switchfoot. Most of the tracks, like "Gin and Money", seem to feature the vocals in particular, later they are coupled with a quick guitar rift that match perfectly. John's voice is very unique and he is capable of hitting some fairly high notes, equivalent of Chris Martin of Coldplay, and his large range provide the listener with a varied CD.
Leaving Wonderland…In a Fit Of Rage has a good variety of tracks on, each one giving you something different to listen to. "Star Baby" and "I Burned The Bed" give you an upbeat rock vibe, while "Irene" and "Good Times" slow it down and mellow you out. The CD comes off lackadaisical, which would very easily compliment a lazy laid back evening on the beach, but with some tracks to get you up on your feet and grooving to the beat with the soulful melodies. Unfortunately, I feel more like I am in Wonderland when listening to it, rather than leaving in a fit of rage, but I would still check out the CD.